There's plenty to think about when making the switch to solar energy, There are many contractors to choose from as well.
With the rise of interest in renewable energy, it can seem overwhelming to get a grasp on where your home stands. And to understand what your options are when it comes to making the transition to solar energy.
You probably have questions like, "Is a solar system installation worth my money?" or "Are there solar incentives available to take advantage of?" These are valid questions, and should definitely be on your list of things to ask contractors.
There are also important questions to ask your solar installation contractor that might not immediately be top of mind. Questions that get into the details of solar system sizing and optimal performance. Don't worry. We are here to help.
We've provided a list of four common questions you should ask your solar energy contractor before moving forward with your installation. This is by no means a full list, but it will get you started on the right path to a successful solar installation.
1. What Types of Solar Equipment Do I need?
There are some misconceptions that a few solar panels lining your roof can just be plugged into your home and start energizing. This is not entirely accurate, and there are additional technologies that are required to convert this energy, as Solar Reviews explains. 
For example, a converter is a device that properly integrates this energy into your home, charging your appliances, etc. But there is not just a single type of converter. There are various options depending on your energy needs. Similarly, there are also different types of solar panels to be aware of.
Depending on your situation, some technologies might be better for you than others. While some panels come at a higher cost, those models can also be more efficient. On the other hand, you might reside in an area with an abundance of sunlight and already max out efficiency with a less costly panel. Finding the right balance is important.
2. How Much Equipment Do I Need?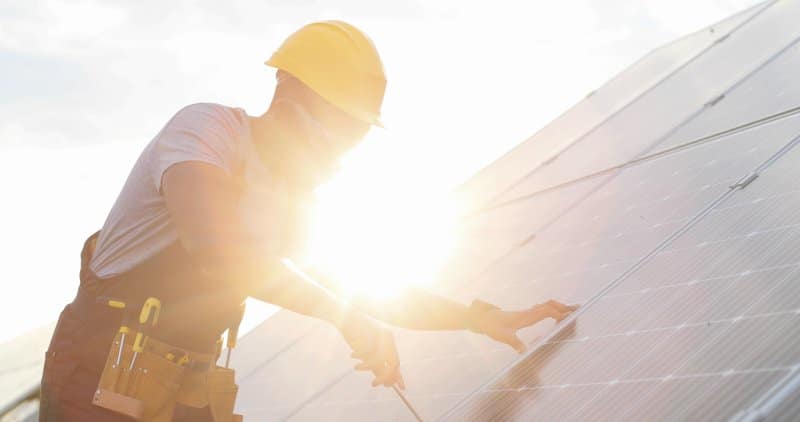 Similar to the first question on this list, it's important to get a grasp on how much equipment is necessary. After all, every home is unique in terms of energy usage. This is not limited to size alone. How much energy you use on a regular basis also comes into play.
Going through this information with a solar contractor will help provide an accurate picture of how many panels are necessary for an efficient solar system. Knowing this will also help inform the installation cost, and help you budget accordingly for such a project.
Additionally, speaking to your solar installation contractor about these items, as well as your budget, will help the two of you be on the same page in terms of performance and cost. And when choosing a solar panel contractor, there is nothing like being on the same page.
3. Are There Warranties or Tax Credits Involved?
While every location is not the same in terms of tax credits or incentives, a solar energy contractor will help you navigate these details. For instance, net metering is located in various states, enabling you to sell excess energy back to the utility company. While not a tax credit, policies like this can be incredibly advantageous.
But there are also warranties to be aware of regarding your new equipment. At least, there should be if you are partnering with a top solar contractor. Many solar contractors provide warranties affiliated with their respective solar energy systems, or regarding the installation process itself.
Make sure you're partnering with a solar power contractor that has warranties in place, protecting both your equipment and your financial investment.
4. How Much Will I Save on My Electric Bill?
While there is not a cut-and-dry answer to this question, there are realistic estimates that a top solar contractor can provide. In the same way that your solar contractor will establish the type of equipment you need and the size of your solar system, they can generate reasonable assumptions about energy usage as well.
Some of this means looking at your history of energy usage. But the answer also pertains to the type of equipment you are having installed. And again, this will likely vary by location.
For example, back to net metering. This is a policy that is not in place everywhere, but understanding policies like this compared to your energy usage can help a solar contractor provide an accurate estimate of overall cost savings.
Learn More
As stated, this is by no means a full list of questions to ask your solar contractor, but it should get you started in the right direction. The solar installation process takes time and planning, and obviously, there are many questions that come along with that.
The big takeaway is that questions are good, because it is important to understand what the installation really entails, and what it really means for your energy consumption and your energy costs.
The professionals at SunSource Energy are happy to discuss any questions you might have, and help you get a better grip on how partnering with a high-quality solar installation company can benefit you.
See if you qualify for a ten-minute free solar assessment.